A simple and light tool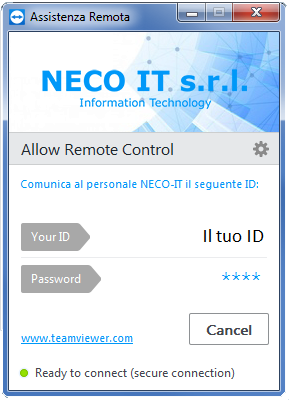 Download the NECO IT Remote Assistant for free.
It doesn't need any kind of installation
Our specialist will be able to access your computer directly from theirs, with no need to intervene on site.
Thanks to this system it is possible to provide assistance for software problems.
To use the remote assistance service, you need an Internet connection and the software mentioned above. (click on button hereunder to download)
The benefits of this service are speed on intervention and the important economic save.
How to use the software?
To use the service it will be necessary, in addition to being our customers, to download and start the software. At start up, a unique ID will be created which must be communicated to the NECO IT technician, this will allow the remote assistance session to start.
Which problems can be solved with the remote support?
With this system it is possible to solve only software problems. Hardware problems require physical intervention by the specialist
What can be done:
• Installations / Uninstallations.
• PC cleaning
• Virus / Malware Removal.
• Configurations and Schedules.
• Troubleshooting Drivers and peripheral devices problems.
• Troubleshoot system errors.
If you have one or more of this problems:
CONTACT US
Connection is sure?
We use TeamViewer QuickSupport as Remote Assistance software. TeamViewer uses a 2048 RSA private / public key exchange encryption method and a 256-bit AES certificate for session encryption.
For more information on security, visit:
TeamViewer Security